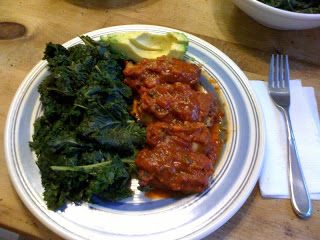 The vegan eggplant rollatini is by far my favorite recipe. It is so good, and the cashew ricotta is so creamy it really makes the dish! Also, the key to cooking this eggplant healthily is baking it so you don't have to use tons of oil to make it soft.
It's a little work so I usually don't do it on a weeknight, but if I do make it I usually make extra and freeze it. It also makes a good party food. Here is the recipe and some pics of me making it. Enjoy!
The pic shows it with a side of steamed kale and some avocado.
Eggplant Rollatini
* Mostly taken from a recipe in Eat to Live by Dr. Joel Fuhrman
3 large eggplants
1 lb frozen spinach
1 batch Cashew Ricotta
2 jars tomato sauce (approximately)
Cut off top and bottom of eggplant and peel. With a sharp knife, slice ¼ inch slices long ways. Spray pan lightly with spray oil so eggplant won't stick and place eggplant on pan. Heat in oven for approx. 15 minutes at 350 degrees or until eggplant is soft and pliable.
Heat spinach and drain excess liquid. Mix the spinach and cashew ricotta in a large bowl.
Cover the bottom of a lasagna sized pan with tomato sauce. On a plate, place about a heaping tablespoon of cashew ricotta mixture on a piece of eggplant and roll. Place the roll in the pan. Cover the rolls with more tomato sauce when finished. Heat in the oven for 50 minutes at 350 degrees.
Cashew Ricotta
* From the Veganomicon by Isa Moskowitz & Terry Romero
1/2 cup raw cashew pieces (approximately 4 ounces)
1/4 cup fresh lemon juice
2 cloves fresh or roasted garlic
1 pound firm tofu, drained and crumbled
1 1/2 teaspoons dried basil
In a food processor, blend together the cashews, lemon juice, and garlic until a thick creamy paste forms. Add the crumbled tofu to the food processor, working in two or more batches if necessary, until the mixture is thick and well blended. Blend in the basil.